Mnangagwa unleashes gold panners on Mugabe dairy farm, orphanage
Government officials say miners can start prospecting for gold on two farms owned by Mugabe family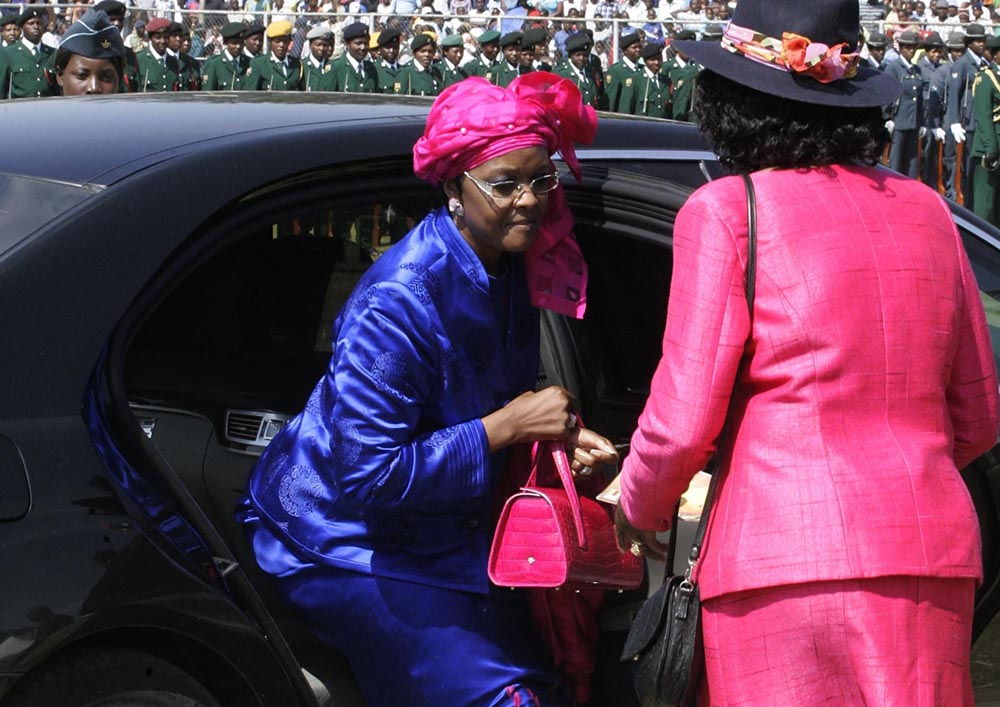 Farm threat … Former first lady Grace Mugabe faces a backlash from the government for refusing to bury husband at Heroes Acre
HARARE – A dairy farm and a children's orphanage owned by the family of former president Robert Mugabe could soon be overrun by gold panners after President Emmerson Mnangagwa's government gave a greenlight for mining activities.
Mugabe and his wife, Grace, grabbed several farms in Mazowe before establishing their family business, in the process driving out small scale gold miners.
In a surprise move, the government is allowing the miners back on Foyle Estate and Smithfield Farm, according to papers seen by ZimLive.
Mugabe died on September 6 and was buried at his rural home in Kutama on September 28 after the family rejected government pleas to bury him at the National Heroes Acre in Harare.
The latest actions will be seen as the government taking its revenge on Mugabe's widow over the embarrassing Heroes Acre snub.
Foyle Estate is owned by the Mugabes' Gushungo Dairy while Smithfield Farm is the setting of an orphanage set up by the former first lady.
In a letter dated September 18, 2019, the Mashonaland Central provincial mining director, one T. Ndhlovu, wrote a memo to "all miners, potential miners and approved prospectors" inviting them to show interest in mining activities on 10 farms, including Foyle and Smithfield.
"All miners who used to hold mining titles (claims) in the above-named farms are invited to report to the Mashonaland Central provincial mining office in Bindura and re-inspect them as soon as possible," the letter says.
"We are extending this grace period for 60 days with effect from September 19, 2019, beyond which we will assume all those who hold such interests would have restored them."
One of the miners who received the memo is Takudzwa Ralph Mutopo, who has written to the Mugabe businesses' manager Farai Jemwa "out of respect" to inform him that he is returning to begin mining "immediately".
Mutopo writes that he owns five mining claims in a section of Smithfield known as the Iron Mask Estate.
"I will be commencing mining activities immediately. Me notifying you is out of respect so that you will not be shocked seeing people carrying out mining activities," he said in the letter bearing a September 30 date.
No comment could be obtained from the Mugabe family.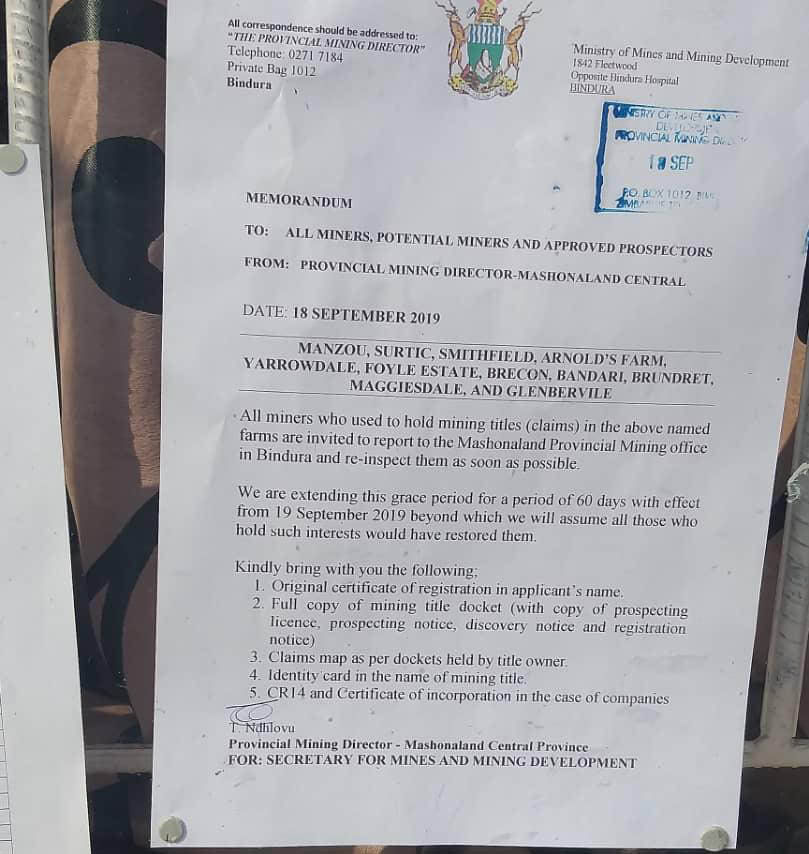 Mnangagwa's Zanu PF government reportedly threatened to seize Mugabe's Borrowdale residence and another house the former president gifted to his daughter in Mt Pleasant while pressuring his widow to agree to a Heroes Acre burial. The Zanu PF leader later came out to say he had instructed officials to hand over the title deeds to the two properties.
The Mt Pleasant house was bought for Mugabe by Zanu PF while the Borrowdale residence was built on land owned by Zanu PF. The party retains title deeds to both. Zimlive